I think this is what I saw this morning.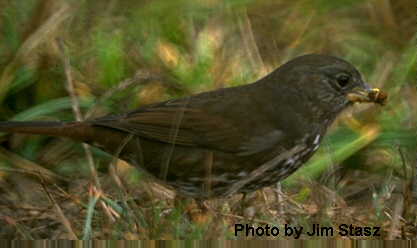 From the Cornell All About Birds site:
A large, boldly striped sparrow of scrubby boreal forest and mountain chaparral, the Fox Sparrow is most familiar as a migrant or wintering bird. Its vigorous "double-scratching," kicking backward in ground litter with both feet to uncover food, often draws attention to its presence under a bird feeder.

"Cool Facts"

The Fox Sparrow comes in four different forms, sometimes considered separate species. The red or eastern form has reddish streaks on chest and back, a rufous cap, and a gray face. It breeds across the boreal forest and winters in the southeastern United States. The sooty form is dark brown all over. It breeds along the Pacific Coast from the Olympic Peninsula northward to the Aleutian Islands, and winters from Alaska to California. The slate-colored form has a gray back and reddish wings, as well as a longer, reddish tail. It breeds from central British Columbia to Nevada and Colorado, and winters in the arid Southwest. The large-billed form has a gray back, reddish wings and tail, and a very thick bill. It breeds from central Oregon southward through California, and winters in California.